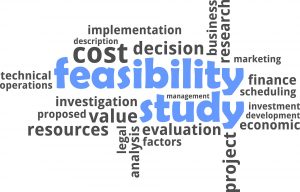 Feasibility study is a process of a certain analysis including, Market, Technical, Financial and Legal. Feasibility study provides a company's management with crucial information that could prevent the company from entering blindly into risky businesses.
importance of feasibility study in project management
Feasibility studies are important to any business development by defining the potential obstacles that may affect the business operations and the Investment structure needed to get the business up and running. Feasibility studies aim for marketing strategies that could help convince banks and investors that investing in a particular business and project.
Direct benefits of conducting feasibility study
Identifies new opportunities through the investigative process.
Provides the investors with necessary information to "go/no-go" decision
Provide the Investors with the business alternatives
Identifies a valid reason to undertake the project
Enhances the success rate by evaluating multiple parameters
Aids decision-making on the project
Gives focus to the project and outline alternatives.
Identifies reasons not to proceed.
Enhances the probability of success by addressing and mitigating factors early on that could affect the project.
Provides documentation that the business venture was thoroughly investigated.
Helps to attract equity investment.
Truth Economic and Management Consultancy has and accumulated experience in Conducting Feasibility studies in all Sectors Since 1993.